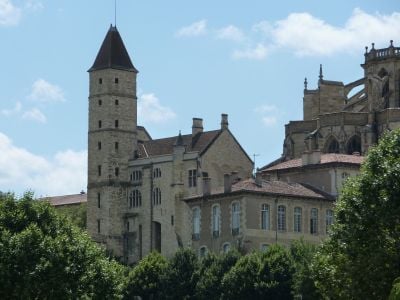 Towns near Lourdes
Argelès Gazost
Located 15km from Lourdes, 20 min. by car.
In the heart of the Vallée des Gaves, Argelès-Gazost is a charming little town with multiple centers of interest.
The upper town has typical houses and a weekly market, the lower part boasts a Casino, a park, and thermal baths. At the entrance of the city the animal park offers attractions for young and old.
Wherever you are in the the town you have a panoramic view of the surrounding Pyrenees.
Nearby, the Abbey of St Savin and the Chapel of Pietat are worth a detour.
The Donjon des Aigles in Beaucens offers an unforgettable spectacle of birds of prey in flight.
Pau
Located 40 km from Lourdes.
The city of Pau owes its fame to its most prestigious resident, namely Henri de Navarre, future king of France under the name of Henri IV. It is located in the Pyrenean foothills, and has a breathtaking view of the Pyrenees range from the Boulevard des Pyrénées.
Visit the Château de Pau, the Bernadotte museum, and also the Fine Arts museum ...
At the exit of the city towards the Pyrenees, you can taste the famous white wine of Jurançon in the cellar of the producers of Gan and discover this superb vineyard on the plateau with a view of the Pic du Midi d'Ossau.
Tarbes
Located 20km from Lourdes, 30 min. by car.

The city of Tarbes is the capital of Bigorre; it is also the city of the horse with its national stud farm, which has guided tours of the park and buildings.
Right in the city center, the Massey Garden is an English-style park with free-roaming peacocks and rare species.
Visit also the birthplace of Marshal FOCH, the Carmel and its temporary exhibitions or nearby, the Collegiate Church of Ibos.
Auch
100 km from Lourdes (1h45 drive), Auch is the historic capital of Gascony.
Don't miss the imposing Sainte-Marie d'Auch Cathedral, listed as a Historic Monument and listed as a UNESCO World Heritage Site, as well as the "Monumental Staircase", connecting the upper and lower town, in the center of which proudly stands the statue of the most famous son of the Gers: D'Artagnan .
Stop to taste some succulent foie gras or an old Armagnac, both jewels of Gers gastronomy.
Finally, to digest, nothing like a little walk in the surrounding countryside!