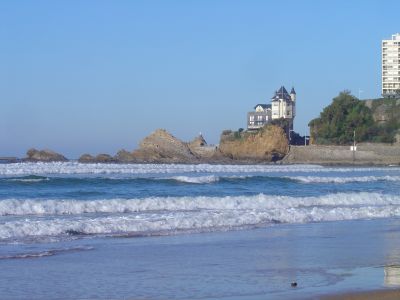 The Towns of the Basque Country
The city of Lourdes is located on the border of the Basque Country, perfect for a day trip.
Biarritz
Biarritz, 160km from Lourdes (2H00 drive), is located on the Basque Coast .
The city is built on a series of hills along the coast and directly overlooks various coves and beaches such as the Grande Plage, the Côte des Basques or the Fishermen's Port .
Cap Saint-Martin, dominated by the Biarritz lighthouse, marks the limit between the sandy coast to the north, starting at the extreme tip of the Gironde and ending in Anglet, and the cliff-cut coast of the Basque Country to the south.
Saint Jean de Luz
Located 160km from Lourdes or about 2 hours by car, St Jean de Luz had its heyday with the marriage of Louis XIV in 1660. From the 16th to the 19th century, the city is famous for its privateers, including the famous captain Duconte.

Currently the city has a very beautiful fishing port as well as an original seafront with colorful facades, typical of the Basque Country.
Saint Jean Pied de Port
130km from Lourdes, about 3 hours drive, St Jean Pied de Port is located in the heart of the Basque Country.

Built in the 12th century, the current city retains many vestiges of its glorious past: the citadel, modified by Vauban, the bishops' prison, the Porte St Jacques.
The heart of the city is very well preserved and many facades bear witness to ancient times.