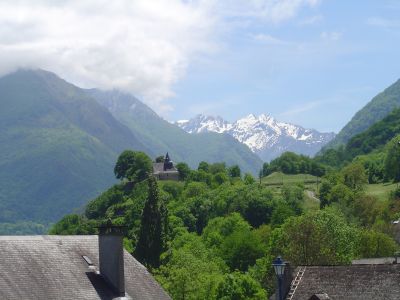 Pyrénées National Park
The Pyrénées National Park is full of natural treasures and unmissable villages, your Hotel la Vallée suggests discovering the following villages:
Cauterets
Located 30km from Lourdes, 30 min. by car.
Cauterets, known since antiquity for the properties of its thermal waters, is also a famous ski resort.
Rich in history and the passage of famous people such as Victor Hugo or George Sand, the city with its Belle Époque architecture has ancient-inspired thermal baths as well as a Casino and the Maison du Parc National des Pyrénées where you can discover this natural environment.
There are many walks or hikes to the Cirque du Lys or the Bridge of Spain by following the waterfall trail.
Luz-Saint-Sauveur
Luz-Saint-Sauveur, 41 km from Lourdes
It is a true mountain village in the beating heart of the Hautes Pyrénées.
Located at the foot of the Pic du Midi de Bigorre with its observatory & the Cirque de Gavarine, on the edge of the Pyrenees National Park.
Landscapes, legends, nature: in Luz you immerse yourself in the world of the mountains.
Perfect for cyclists : after a warm-up from Lourdes, this is where the real ascent of the giant Tourmalet (2115 m.) begins, as well as the ascent of Luz Ardiden (1720 m.).